Last December marked my 20 years of traveling as an adult.
Preceding 1999, all travel was sponsored by my parents. Being born to Palestinian-Jordanian-Syrian parents living and working in Saudi Arabia means I've been traveling since I was in my mother's womb.
First few years were mostly between Khobar, Damascus and Amman. Then a little before I turned 10 all the way to 19, my parents showed me and my siblings the world. The region and beyond.
In December 1999, I went to Boston and New York and that trip marked a new era of traveling as an adult.
I no longer had to wake up at 6am to do any pre-planned guided tours or must-do sightseeing. It meant I can explore a city whichever way I liked. I did a lot of solo wandering in my 20's and early 30's, then somehow I ended up traveling mostly with company. I think its more fun for sure, only if I can manage a couple of afternoons or days of solo roaming, riding hop-on-hop-off buses aimlessly, picking a random restaurant or some street food cart to have a bite. Parks became a fascination around 10 years ago, there I am sure to get a jolt of happiness despite any current worries or concerns.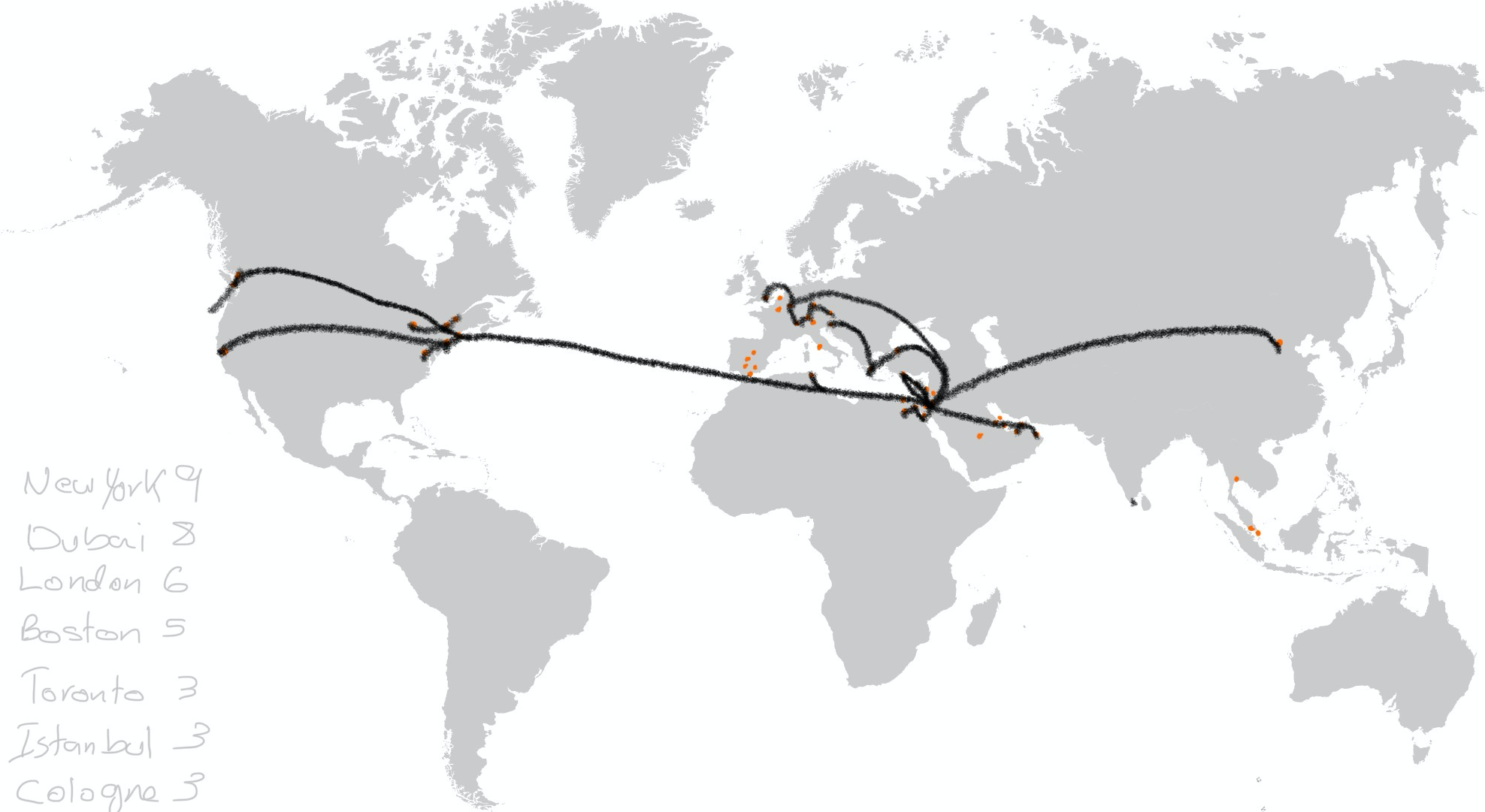 At the start of my last trip to Zagreb, the Jordanian passport control officer was talkative, he mentioned -  as a few number of his colleagues did before- that I travel a lot. I said, really? Maybe twice or three times a year -as I was trying not to get annoyed by the invasiveness of the fact that a young nameless officer like him, can easily see a screen listing all my travels- He said, that's a lot!
I do get asked by different people why I travel often, mostly referencing the financial costs involved with the endeavor. I think it's is simply an attempt at change of scenery, context and culture. A pause from the everyday, from the routine and all that is familiar, to ignite curiosity or follow it.
A few years back, I tried to do a bucket list. As I was trying to figure out the list of things I wanted to do in my life, it turned out to be mostly about travel, living and working for months in a number of cities, experiencing them as if I've been living there for years. Sometimes I get to do just that on short trips if I am lucky to know someone who lives in the city I'm visiting, I get to hangout around them and their friends and socialize as if I'm a resident of that town.
For the love of travel
Traveling to explore a new city, enjoy the warmth of a familiar one or tease out older memories of one. Whether with a lover, a friend, a colleague or totally alone. Traveling to relax on a beach or to attend an event. Connect with familiar faces, meet new ones or enjoy some solitude. Read a book while on sitting on a bench in a park or while sunbathing by a pool. Wandering alone in the streets, taking pictures or finding some empty steps to sit and watch people go about their days and evenings. A drink at the patio of a bar while having an amazing conversation with a new friend or enjoying the company of a lover within a totally different context.
I could go on. But travel as everything else I seem to do, keeps evolving. It meant different things at different times. Independence, adventuring, playfulness, suntanning, being, connecting, exploring, working, tasting, relaxing, reflecting, missing, getting distracted, moving on, running away to or from something or someone.